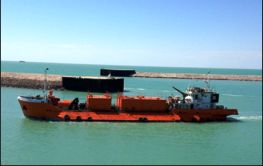 P2 it is working in Kashagan Field as support vessel since 2006.
Classification: RINA + RMRS

The ship is designed to carry:
Gas-Oil
Fresh Water
Sewage Mud

A future plan is the construction of TR on board the vessel for up to 20 survivors of offshore drilling personnel in case of toxic gases discharge. It will be possible for people to stay in safety for a minimum of two hours until being evacuated on board of Emergency Evacuating Vessels.
Technical information:
The vessel is modernized by side pontoons of buoyance 15.07.2007 (see Report No. 07.10641.143 dd. 15.07.2007).

Name:  P-2
Former name:  Ievoleco Secondo
Year name change:  2014
RS number:  914139
IMO number:  8870803
Offical name: P-2
Call sign:  UNT
Port of registry:  Aktau
Flag:  Kazakhstan
Supervisory revision:  Branch office of Federal State Institute "Russian Maritime Register of Shipping" in Aktau (Kazakhstan)
Special survey:  28.04.2015
Class notation:  KM* R3 oil recovery vessel
Class status:  CLASS VALID

SHIP TYPE
Basic type: Supply ship (ORSV)
Subtypes:  Sludge collector

CONSTRUCTION DETAILS
Date of build:  01.09.1992
Date keel laid:  26.03.1991
Country of build:  Italy
City:  Termoli
Hull No:  28

DIMENSIONS AND SPEED
Gross tonnage:  457 international
Net:  224 international
Deadweight (tonn):  708
Displacement (tonn):  822
Length OA (m):  47.0
Length BR (m):  45.0
GROSS (INTEL) (m):  43.63
Breadth extreme (m):  11.4
Moulded breadth (m):  7.98
Depth (m):  3.3
Draught (m):  2.6
Speed:  7.0

MACHINERY
Propulsion:  Diesel
Main engines date of build:  2000
Main engines country of build:  Italy
Main engines location of build:  Milan
Main engines: Fiat Iveco AIFO
Main engines number, power:  2*291 kW
Main engine #1 model No:  8281 SRM 44.10
Main engine #2 model No:  8281 SRM 44.10
Propeller number, type:  2 - Swingning propeller unit
Blades:  4
Generators number, power:  1*80 | 1*15 |

REF. CLASS AND NAVIGATION AIDS
Ref. class: R3
Aids of navigation:  Magnetic compass
 Gyro-compass
 Radar
 Radio-telephone station
 Inmarsat C Sattelite equipment
 VHF radio-telephone station
 Radio navigation system receiver
 VHF Radioinstallation (VHF radio-telephone station with digital selective calling)
 MF Radioinstallation (MF radio-telephone station with digital selective calling)
 GMDSS ship earth station
 COSPAS-SARSAT Satellite emergency position-indicating radio beacon
 VHF emergency position-indicating radio beacon with digital selective calling
 NAVTEX receiver
 Enhanced group call receiver
 Digital selective calling receiver
 Search and Rescue Radar Transpoder, AIS Search and Resc
 Two-way radio-telephone apparatus
 Automatic identification system
GMDSS sea area:   A1+A2+A3

CAPACITIES
Fuel oil bunkers (tons):  10
Fuel oil type:  Diesel oil  
Water ballast (tons):  248
Heating coils:
Grade of anchor chains:  High strength
Diameter of anchor chains (mm):  22.0

HOLDS, DECKS, PASSENGERS
Dry cargo holds,number*cubic capacity each(cub.m):  1*51,8 (cub.m)
Refrigerated cargo spaces (total number-total cubic capacity(cub.m)):  0*0
Tanks (total number-total cubic capacity(cub.m)):  12*892
Containers (number TEU):  0
Decks:  1
Bulkheads:  9
Passengers berthed:  0
Passengers unberthed:  0
Special personnel:  0