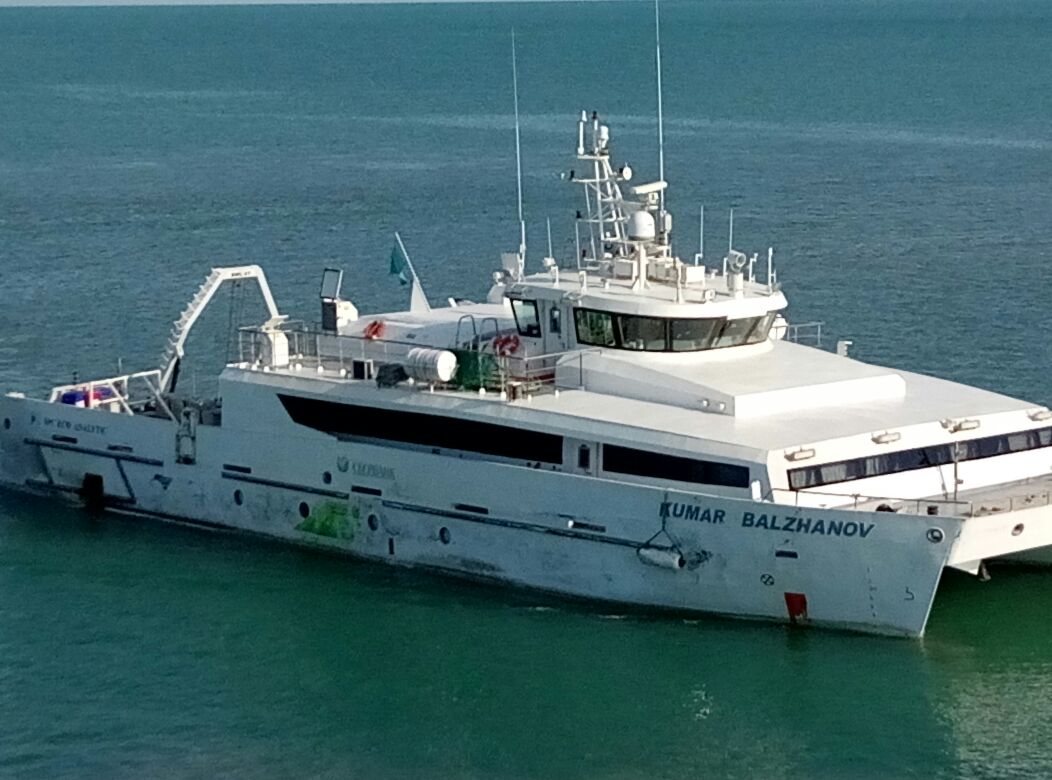 The vessel was built by a well-known Turkish shipbuilding company in August 2015 and has an international marine class RINA UNDESTRITED NAVIGATION ICE CLASS 1D.
At the moment there are no analogues of such vessels in the Republic of Kazakhstan.

The vessel is unique, the maximum draft at full load is only 1.8 meters (and on average without load - 1.5 meters), so it can work in shallow water, in particular, in the Northern Caspian. The ship has 2 stern and 2 nasal engines for better maneuverability.

Competitive advantages of our ship:
1) This is an unrestricted area of navigation with ice reinforcement of Ice Class 1D.
2) Capacity with the crew - 21 people.
3) A medical card for intensive care with damage to vital organs and to hospital recovery of cardiac function with the possibility of placing medical equipment and medicines.
The vessel is equipped with an accredited laboratory, two cabins for VIP-guests with a toilet-shower, a VIP-cabin with a separate entrance.
In the wardroom, 2 VIP cabins and in the captain's cabin there are TV sets.
There are 7 double cabins, 3 toilet-showers, laundry, storage room.
There are 7 double cabins, 3 toilet-showers, a laundry room, a warehouse for food, a separate cabin for the crew, a separate room (a cabins company) for meals by the crew.
The vessel "Kumar Balzhanov" has the following technical characteristics:
1) Range of navigation 1000 nautical miles
2) Autonomy of navigation 20 days

Also, this vessel is equipped with a sewage and sea water purification system, lifebuoys in the amount of 21 pcs., Life jackets in the amount of 21 pcs., And liferafts in the amount of 2 pcs. For 12 people.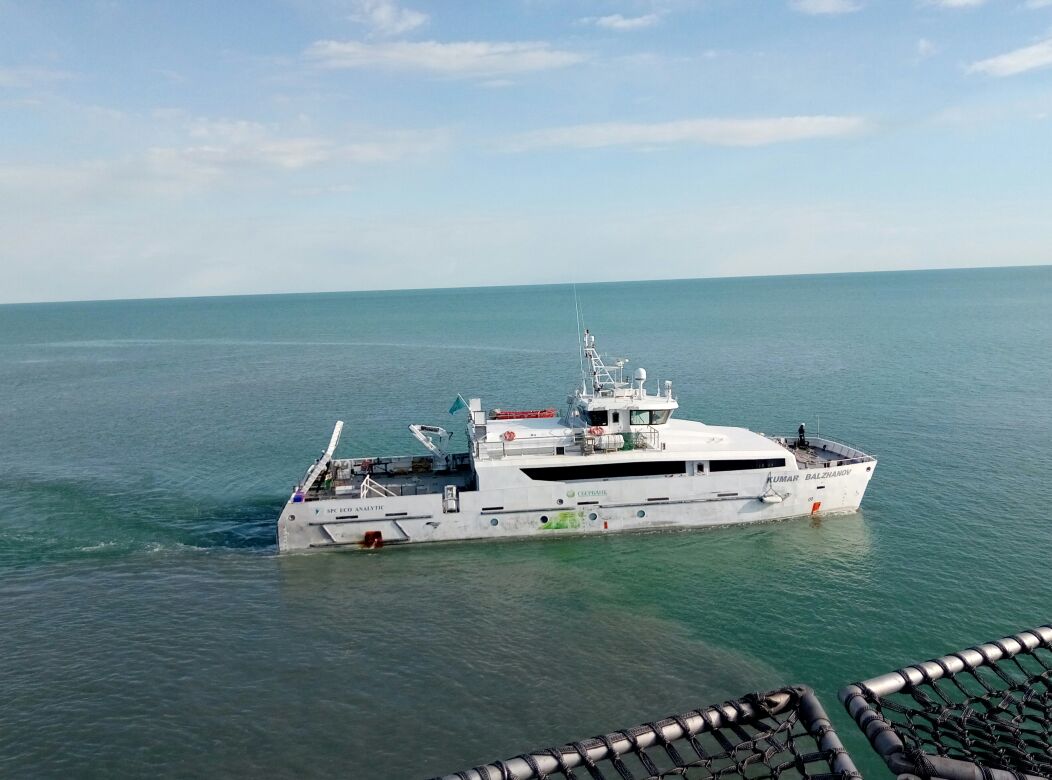 Main dimensions:

Length/Width/ Molded Depth

34,10м / 13,5м / 3,57м

Draft (max)

1,8 м

Displacement

386 тоn

Main engine

Caterpillar C32

Number and power

2 x 895 kW 1800 rev / min

Diesel generator

2 x 150 kW (waterproof)

Fore thrusters for increased maneuverability

2 х 50 KW

Working deck

150 sq.m.

Speed / range

16 knots at full load / 1500 nautical miles

Autonomy of navigation

20 days

Living spaces:

1. Captain's cabin

 

2. VIP cabins

 

3. 1 x 2-bed cabin with a toilet-shower

 

4. 7 x 2-bed cabins

 

5. 1 VIP room for Company

 

Scientific laboratory:

Room

1 x 25 sq.m.

Premises:

Optional equipment

Sewage Treatment Plant.

Fresh Water Maker 6m3 x 2 = 12m3 x day

Fuel Oil Tank

50m3

Fresh Water Tank

47m3

Sewage Tank

36,83m3

Laundry

1

Separate cabin for the crew

1

Galley

1

Food Store

1

Toilet-shower

3

Medical cabin

1 x 10 sq.m. With equipment for intensive care with damage to vital organs and to hospital recovery of cardiac function

Deck equipment:

A-Frame

5 tons

Crane arm

3 tons

Rescue Boat

1 for 6 people with SOLAS equipment

Lifebuoys

21 sets

Life jackets

21 pcs.

Life rafts

2 pcs. For 12 people